Gencom is committed to bringing the digital revolution to radio communications in the Hunter Region. The enormous benefits of digital technology simply cannot be understated. Voice communications over a digital radio network are vastly superior in transmission of clear, static-free voice than analog services. The digital transmission of voice comms is generally accepted to have a generally better infill coverage and fringe area performance for a given power output than analogue.
Digital communications are by nature very secure – use of digital encryption can enhance security further and prevent scanning by unauthorised listeners.
Digital radio also offers a variety of other extremely useful features, such as data channels, private calling, group calling and even remote control of radios to allow for stolen radios to be rendered inoperable. Some digital radios include GPS options to allow tracking and locating of the terminal, while quite a significant number of devices will operate in a hybrid mode, whereby they can transmit and receive in digital as well as analog modes – meaning that a new digital radio can usually also be used in legacy analog-only locations or operations.
Digital Standards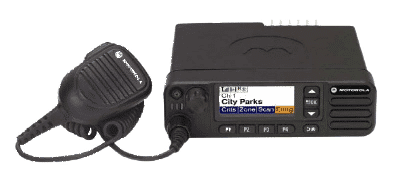 A number of standards have been developed for digital radio. Each has their benefits and limitations, although all of them exhibit quality and feature improvements over analog models of comparable power. The two main standards in the industry are P25 and Tetra. Tetra was developed in Europe and operates using a TDMA (Time Division Multiple Access) method, while P25 was developed to allow interoperability between various agencies in the US emergency services and military and operates on FDMA (Frequency Division Mutiple Access) principles.
IDAS & Nexedge systems offered by Icom & Kenwood respectively are builton the NXDN platform or dPMR. These are genrally low cost digital radios designed for simple cost effective migration from analogue platforms. Gencom operates our own DigiNEX subscriber network on the NXDN platform throughout the region.
Motorola has the MotoTRBO built on DMR platform (Digital Mobile Radio) underpinnings. MotoTRBO has extended the basic standard to include many of the features only found in the Tetra and P25 systems, such as wide area trunking capability. This platform is the area of fastest growth in the radio industry, with commercial, industrial and mining users all taking advantage of the lower implementation costs and easy migration from analogue to digital that MotoTRBO offers. Gencom operates sites for the Orion digital radio network which is a national trunked subscriber radio system built on the MotoTRBO platform.
All digital standards feature an increase in spectrum capacity brought about by a reduction in channel width from analog's 25Khz to 12.5Khz or 6.25Khz equivalence, thus not only does the audio quality, security and features available on the radios improve significantly; each 25Khz channel now has at least twice and often 4 times the capacity.
Gencom can deploy any of the major types of digital network solutions and can explain the benefits of each, offering an end user all the information required to make a decision on which path offers the greatest benefits to their business or operation.