UHF CB Radios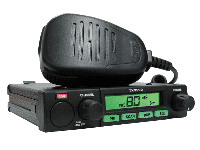 We distribute a large range of high performance and high quality CB Radio equipment. CB radio is intended to provide short-range radio communication for almost any purpose – business or personal. Equipment is inexpensive and there are no licence fees to pay.
Australia has two types of CB radio bands available. The first was introduced in the 1970s and is commonly referred to as 27 Megahertz. This type has been replaced by the Ultra High Frequency (UHF) CBs that have become very popular with the availability of cheap handsets over the last couple of years. Almost all CB activity occurs on UHF these days. More information on the channel structure and channel uses can be found on our UHF CB Channels page.
The ACMA has mandated a move to a new 80 CB channel matrix over then next few years and models are now available which can take advantage of this.Older CB radios have 40 channels available on UHF CB with channel 40 commonly used as the "truckie's channel". Most truck drivers leave their CBs on when driving. If scanning the channels doesn't find someone, you can always put out a call on each channel in turn till you find someone. CB communications are mainly short range. With the Gencom Repeater Stations you can boost the coverage of your CB Radio. Repeater stations substantially increase the range of UHF communications and there are literally hundreds around Australia. Gencom operates a number of repeater stations in the region and provides them as a free community service. For a list of UHF CB Repeaters around Australia, go to our UHF CB Repeaters page. This page also contains links to downloadable lists and a Google Earth .kmz file locating all currently known repeaters by channel and by state across Australia.