Imark Voltage Converter DC2412-20 24-12V DC 20A Heavy Duty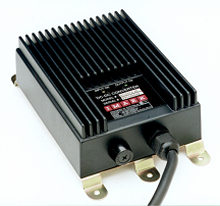 Imark Voltage Converter DC2412-20 24-12V DC 20A Heavy Duty
The Imark DC2412-20 DC-DC Converter is a full specification, compact, ruggedly built unit designed to operate reliably at full 20 Amps load in arduous mining, transport, industrial, agricultural, marine, electrical and military environments. In-built protection features protect the unit from user tampering often encountered in harsh remote locations.
The compact size allows easy installation in restricted spaces while the unique mounting bracket permits slight bending of the mounting tabs for installation on uneven surfaces. The contoured shape and full sealing against the ingress of dust and moisture allows the unit to be mounted at exposed locations.
The DC2412-20 is supplied with a heavy-duty one metre fly lead and mounting screws.