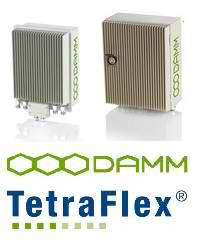 Damm Cellular Systems is a leader in digital professional mobile radio communications in both single and multi- node networks. We focus exclusively on developing TETRA based professional mobile radio (PMR) communications. Designed for all users from small to large scale industries and mission critical operations, Damm's unique TetraFlex® system offers the simplest, most user friendly, flexible and cost effective TETRA infrastructure on the market.
TetraFlex® is 100% based on IP technology, which connects site controller, base stations, dispatchers, network management, logging and voice and text data recording facilities – as well as external gateways in a secure state-of-the-art infrastructure.
DAMM is the preferred supplier of TETRA infrastructure to a wide range of industrial, commercial and public safety customers, including military organisations, manufacturing sites, airports, power plants, transportation, oil & gas, seaports, civil protection, police, ambulance services and many more.
At DAMM, everything we do is deeply rooted in two main values that shape both our products and our business: simplicity and flexibility. These values are channelled into advanced solutions that have a strong reputation of being easy to deploy and expand.
The same philosophy applies to our ability as a company to develop TETRA products that constantly push the boundaries of radio communication, as an important link in virtually any business process.
Our strength within innovation is based on our skill at reading the market, spotting trends and learning from our partners and customers. This knowledge is transferred to our final product that lifts user friendliness, scalability and cost efficiency into a league of its own. To this we add 'the secret ingredient' of being able to anticipate new demands, by introducing innovative features that expand our customers' possibilities even further.
None of this would be possible without a highly professional and ambitious team, which members are passionate about reducing complexity and helping our customers and partners achieve the maximum value of their investment.