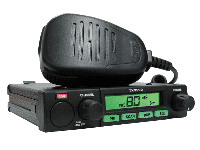 We distribute a large range of high performance and high quality CB Radio equipment. CB radio is intended to provide short-range radio communication for almost any purpose – business or personal. Equipment is inexpensive and there are no licence fees to pay. Australia has two types of CB radio bands available. The first was introduced in the 1970s and is commonly referred to as 27 Megahertz. This type has been replaced by the Ultra High Frequency (UHF) CBs that have become very popular with the availability of cheap handsets over the last couple of years. Almost all CB activity occurs on UHF these days. More information on the channel structure and channel uses can be found on our UHF CB Channels page.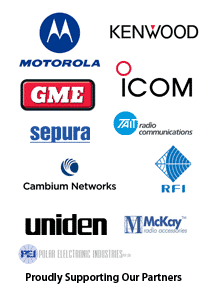 The ACMA has mandated a move to a new 80 CB channel matrix over then next few years and models are now available which can take advantage of this.Older CB radios have 40 channels available on UHF CB with channel 40 commonly used as the "truckie's channel". Most truck drivers leave their CBs on when driving. If scanning the channels doesn't find someone, you can always put out a call on each channel in turn till you find someone. CB communications are mainly short range. With the Gencom Repeater Stations you can boost the coverage of your CB Radio. Repeater stations substantially increase the range of UHF communications and there are literally hundreds around Australia. Gencom operates a number of repeater stations in the region and provides them as a free community service. For a list of UHF CB Repeaters around Australia, go to our UHF CB Repeaters page. This page also contains links to downloadable lists and a Google Earth .kmz file locating all currently known repeaters by channel and by state across Australia.
In Australia, the 156-163 Mhz Marine Band is well supported with products by most major manufacturers. These products are generally rated to IP67 which prevents the ingress of water and dust to military spec. These devices are designed to cope with the harsh marine environment including sun and salt. Many devices are also available as split systems with separate head and bodies enabling minimal space requirements for installations or operation of the radio from a second station eg flybridge.
Gencom has extensive experience with marine radio products. Gencom has historically provided radio support to volunteer coastal patrols in the region. Some products available in this category include DSC Capability – Digital Selective Calling. This is a paging system that uses data signals to automate transmission & reception of VHF Marine radio calls on channel 70. A DSC message is a brief burst of digitised information transmitted from one radio to alert another radio or radios. The DSC message automatically indicates the identity of the calling station and the priority/purpose of the call.
All Marine VHF DSC radios have a unique number (MMSI), which you use to call other radios, just like a mobile phone. However, most importantly, unlike mobile phones, DSC allows you to call every other radio in range at the same time if you are in trouble. In an emergency, one push of a button will make the DSC radio send an automated digital distress alert, containing your position (if a GPS is connected) and your MMSI number to rescue organisations. All commercial vessels are required to carry a DSC radio, and respond to any request for emergency assistance if required.
The DSC system also allows another station (ship or shore) to request your DSC radio to send it's GPS position (if GPS connected) which makes it an ideal fleet or regatta management tool.